Moonblade - Midland Border Camp
MoonBlade
PC, Linux
Creator, Designer, Artist
Mad Science Games
Screenshot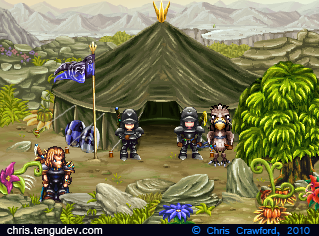 This is an evolving personal project that I've been working on for a long time. I want to make the perfect JRPG. It's a tribute to games like Final Fantasy, Chrono Trigger and Suikoden. This game will have an action based battle system, a massive world to explore, and tons of interesting characters.
This is a working map in the game with multiple paralax layers and working collision detection. The main character is making an idle pose.
It is being developed in Sphere: A javascript based engine that runs on PC and Linux. Sphere has a powerful development environment and has some great tools for spritesets and maps.
---
Tyrant of Terror - Early Alpha
Tyrant of Terror
PC, Mac
Creator, Designer, Artist, Musician
Mad Science Games
Mock up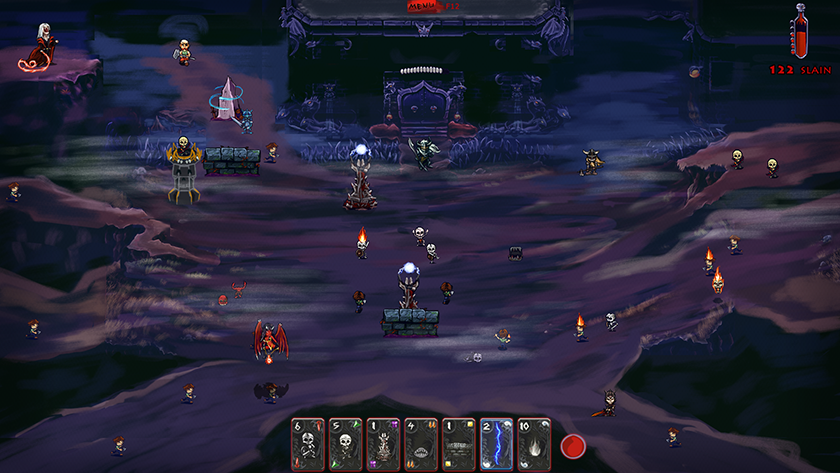 Click above for full size screen.
Early Alpha Footage
Tyrant of Terror is a genre bending symphony of awesome! It could be described as a mixture of Tower defense and RTS genres with deck building elements.
You play as the Tyrant and each night you are tasked with keeping the angry peasants at bay. You will defend various parts of the keep before you are allowed to attack the enemy.
To defend your magnificent keep the player will be dealt cards. Cards can dropped onto the field and come to life. The cards behave in all different ways and you need to use smart strategy to win.
Tyrant of Terror is my baby. I've been working on it since 2010. I am doing everything except programming for this game.
---
Courtly Love: Dungeons & Dating Characters
Courtly Love: Dungeons & Dating (2012)
Web Based MMO
Producer, Game Designer, Art Director, UI, Character Artist
Cellufun
Character Sheet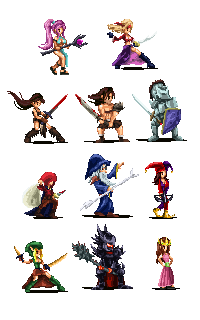 Courtly Love is a quiz dating game. Above are the customizeable characters from this game that players can use as their avatar. Each character is made of four palettes which can be swapped. The result is shown below.



The player was able to customize these fully animated characters by changing the colors of the hair, skin, clothes and weapons independently. Each element was on it's own sprite sheet and layered in a particular order to create this effect.
Bonus - UI screens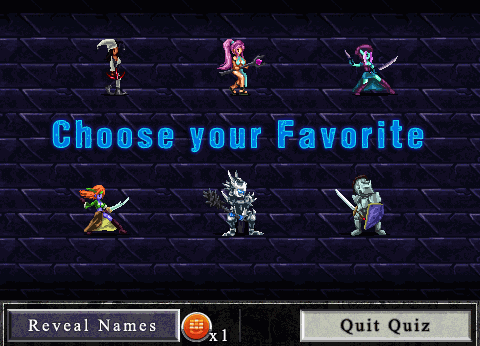 Bonus - RIP

---
Defy or Die screenshot
Defy or Die!
Android
Artist, Game Designer

Arcade type shooter made for Android. Takes advantage of the touch screen. Move your finger across the screen to mow down the onslaught of invaders on the beach.
Screenshot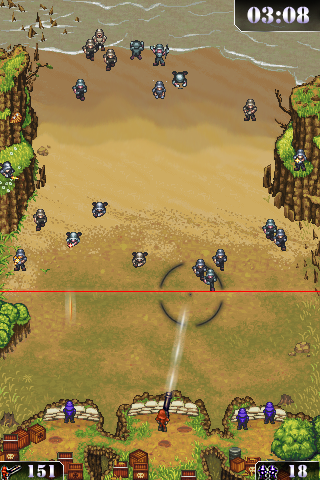 Be careful not to get hit. The soldiers you have left act as your life bar... and it's a good while inbetween reinforcements.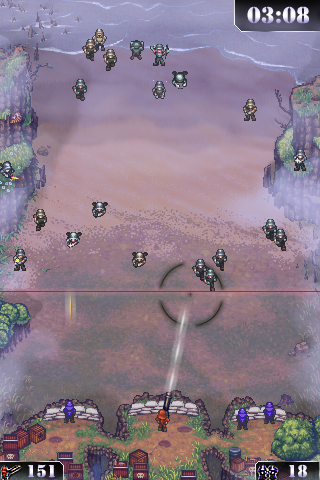 Wave after wave they come. How long can you hold the line? Compete online for highscores.
Bonus - Unused Art


---
Moonblade Characters
MoonBlade
PC, Linux
Creator, Designer, Artist
Mad Science Games
Character Sheet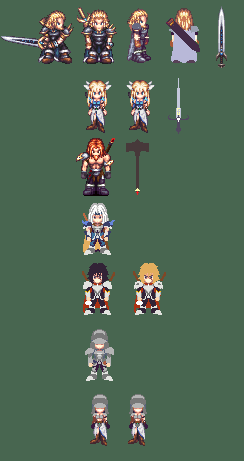 Here are some of the characters from Moonblade. Each character has a distinct silouette which helps make them immediatly distinguishable from each other.
---
Tyrant of Terror UI
Tyrant of Terror
PC, Linux
Creator, Designer, Artist
Mad Science Games
UI revision mockup
This is a mockup for the UI we are currently implementing in Tyrant of Terror. You can read detailed information on it at Mad Science.
---
Farmer Jack's Spooky Pumpkin Patch
Hallofun (2009)
Web Based MMO
Art Director, Artist
Cellufun
Event Backdrop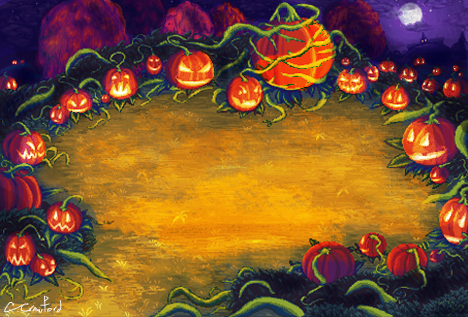 Spooky Pumpkin Patch background. Used for a halloween holiday event. Players would do various activities in the center such as have a bonfire or carve pumpkins.
Some things to point out in this would be the hidden skulls in the grass and trees, even in the moon; the variety of faces in the jack-o-lanterns and the overall spooky, but fun mood of the piece.
Bonus - Carving Frenzy

---
Thaar B Treazure!
Beach Party (2010)
Web Based MMO
Art Director, Artist
Cellufun
Assembled Treasure Map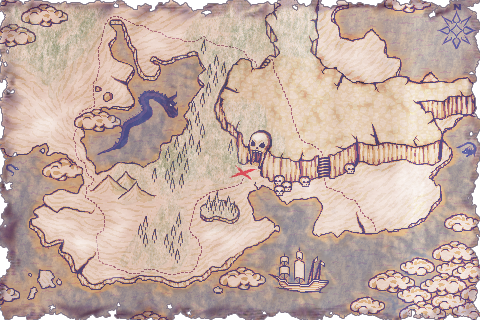 This is the map fully assembled map made for a short treasure hunt event. Notice the blackened and torn edges. A texture applied to the whole thing makes it look more crinkled.
Users would have to find this map in 24 pieces, and then the location of a treasure (in the form of a virtual pet dragon) would be revealed.
I was inspired by old looking maps in games such as Shadow of Colossus.
---
Farm World
Farm World (2010)
Web Based Social Game
Art Director, Artist, UI
Cellufun
Farmworld Overview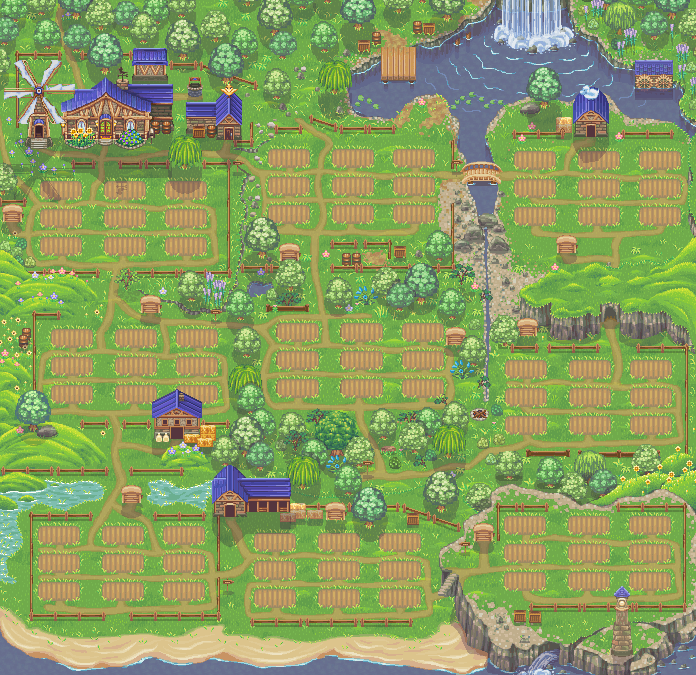 Farm World is a social farming game.
Above is the fully expanded state of the farm map.
Players can build more structures if they wish to increase their farming capabilities.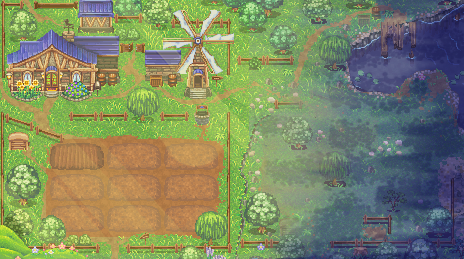 Player's start out owning only a small patch of farm and need to grind in the game to own more. Above is a depiction of owned and unowned land.
Bonus - Farm Fairies, Scarecrows, and Windmills



---
Trick Or Treat!
Hallofun (2011)
Web Based MMO
Art Director, Artist, UI
Cellufun
Hallofun Hub Page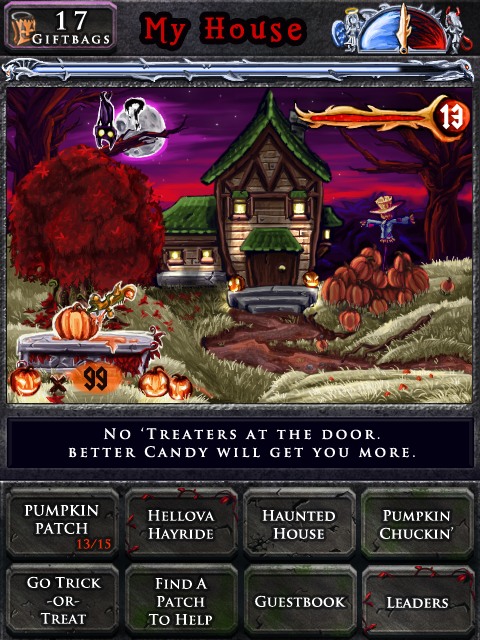 This shows a Halloween MMO event based around Trick or Treating.
UI Elements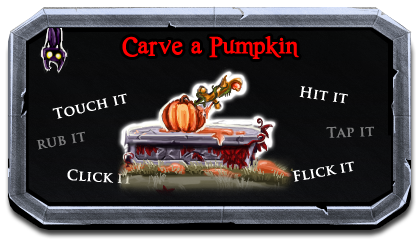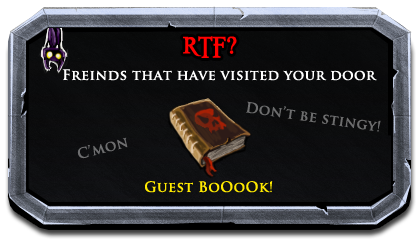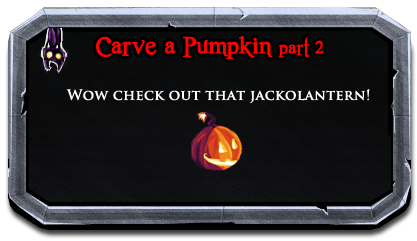 ---
Tales of Torrund map
Tales of Torrund (2005)
PC and Linux
Artist, Level Designer
Alternate Reality Studios (Unreleased)
Game Map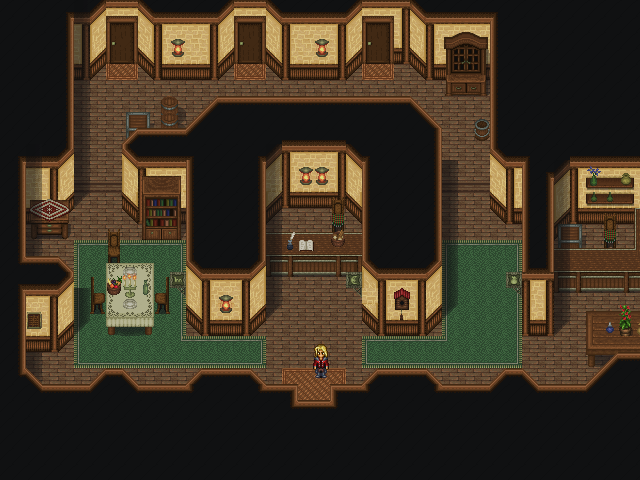 One of many tiled maps for Tales of Torrund. A JRPG in the Sphere Game engine for PC and Linux.
Game Map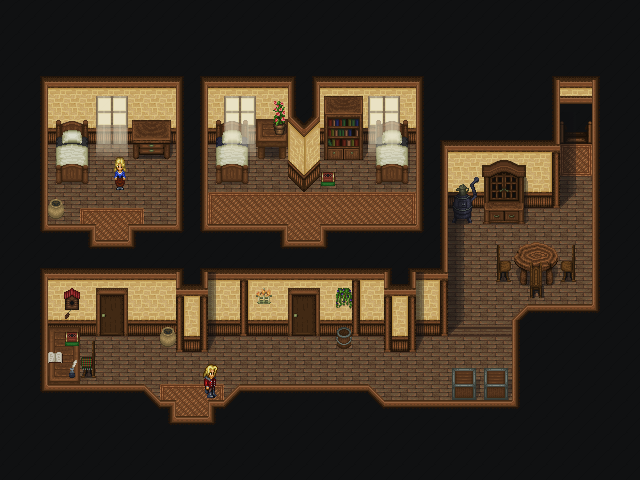 Here's another one.
---
Trick or Treat Select
Hallofun (2011)
Web Based MMO
Art Director, Artist, UI
Cellufun
House Selection screen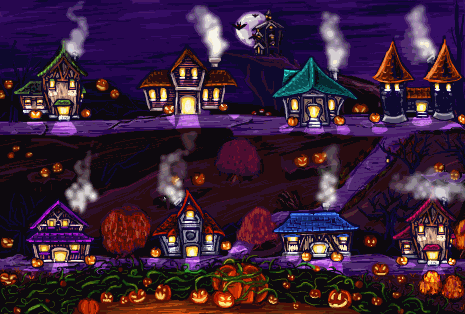 On this screen players can select the house to Trick or Treat at.
Bonus - Original House Selection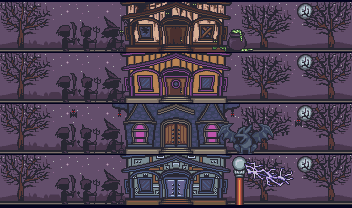 This was the appearence of the same screen in 2008's edition of Hallofun.
---
Dragon Monster Design
Monster Sprite (2011)

RPG Monster sprite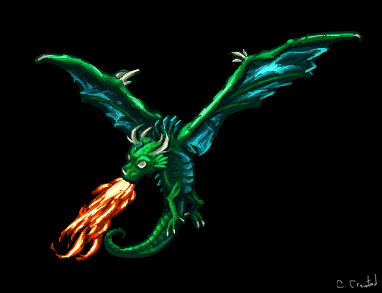 This was just a practice run, creating a mosnter sprite with a more painted feel. This dragon is very much inspired by my favorite game artist Yoshitaka Amano. You can see Final Fantasy series and Bahamut Lagoon influence in here.
---
Tattoo Shop
Cellufun Mall (2009)
Avatar Services
Art Director, Artist
Cellufun
Tattoo Shop.

I created a tattoo system for Cellufun's Avatar system (which I also created). Player's could select a tattoo from a library large library and it would show up on their Avatar.
---
Pumpkin Chuckin'
Hallofun (2008)
Web Based MMO
Art Director, Artist
Cellufun
Pumpkin Chucker Progression

A progression of Pumpkin Chuckers. Players were given the starting vehicle and were tasked with acquiring plans and parts to upgrade their machines. All in a quest for a distance high score.
Bonus - Some Animations


---
Madam Moblette
Cellufun Mall (2009)
Avatar Services
Art Director, Artist
Cellufun
Inside

Madam Moblette would give players their daily horoscope. It was also a place to go to obtain rare mystical items for other games.
Outside

Here is the building before the player enters.
---
Tengu Adventure
Sprites for a Japanese Adventure game
Creator, Designer, Artist
Mad Science Games
Sprites

Concepts for a game inspirted by Japanese folklore.
---
MoonBlade
PC, Linux
Creator, Designer, Artist
Mad Science Games
Early Moonbloade Sprites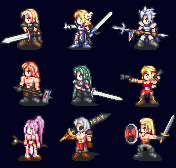 This was Moonblade's original sprite style. Here are several of the game's playable characters.
---
Christmas Chaos
Merry Mobile (2009)
Web Based MMO
Art Director, Artist
Cellufun
Before Holly Jolly Flashbang Grenade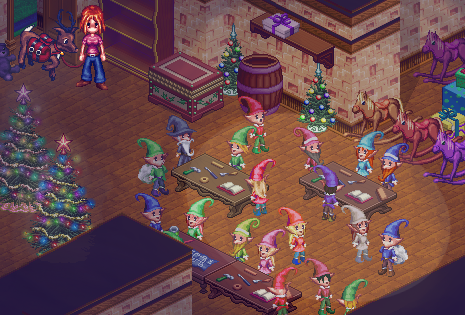 In this MMO Event users were allowed to travel with their personal reindeer into the Elves' Workshop. In the Workshop players are on a Quest for toy components!
After Holly Jolly Flashbang Grenade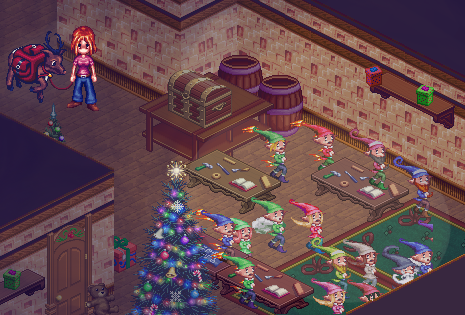 Players strive to sneak thru the maze-like workshop. A handful of Elves? Sure, you can probably get by them unnoticed. But what about the rooms chock full of elves, constructing toys out of the most valuable parts? Would you chance it and try to sneakily pilfer that sprocket? Careful not to get caught!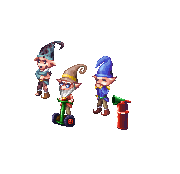 Or would you use one of your Jolly Jack Frost Flash Flasks to clear the room and claim your prize?
Bonus

This is the Naughty or Nice meter that keeps track of your flashbang usage.
Double Bonus

Elves hard at work.
---
Monster Designs
Underworld (2013)
Free to play Dungeon Crawler
Artist
Reveloot
Assorted Monsters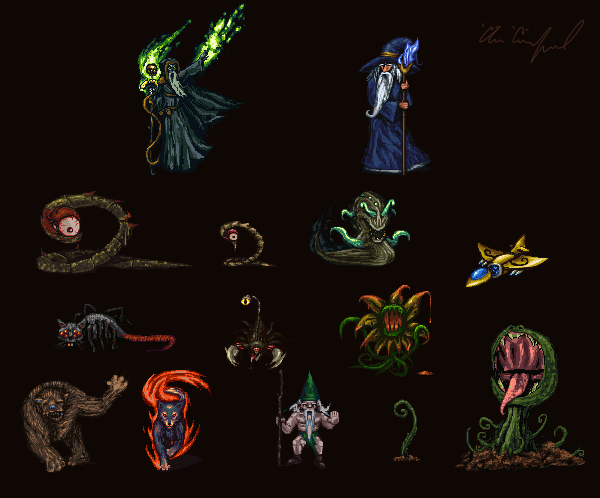 I tried to go for a retro look and used authentic SNES palettes. I had a lot of fun with this one.
---
Cellufun Justice System
Cellucourt (2008)
Web Based MMO Justice System
Art Director, Artist
Cellufun

This is Cellucourt!



Objection! Cellufun had a user run justice system to sentence misbehaving users to a jail. It was kind of like putting your freind in time-out.
---
All kinds of sprites
Small Sprites (2001-2013)

Tons of Sprites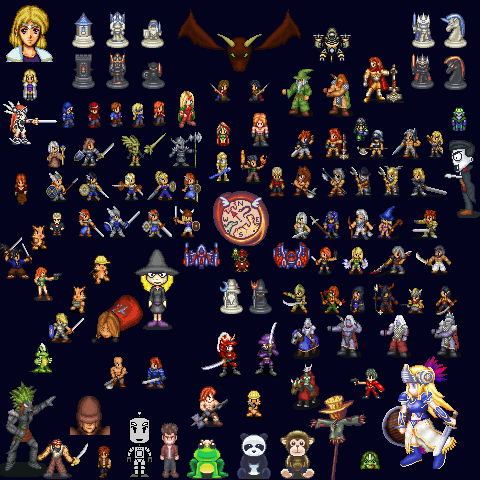 I've been doing Pixel Art since the 90s when resolutions were really small. This is where micro sprites and odds and ends show up.
Bonus - Here's some weapons

---
Haunted Hay Ride
Hallofun (2009)
Web Based MMO
Art Director, Artist
Cellufun
Haunted Hayride Maze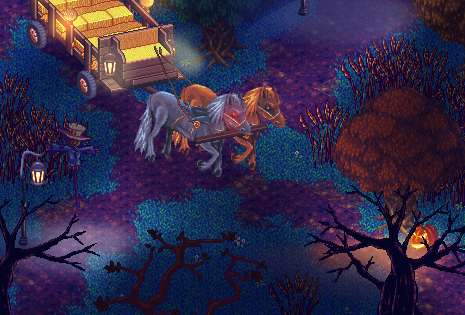 These Zombie Horses will pull you thru a haunted hayride of horror! The Player's avatar will sit in the drivers seat, a friendly passenger or two in the back. If you run into something that goes bump in the night, you might lose one of your buddies! Can you make it out safely?
I used isometric tiles and an image library of creepy trees and scarecrows to make over 30 maze maps. I used the map Editor Tiled. Lights in the corner help indicate which way you can go.
Haunted House Maze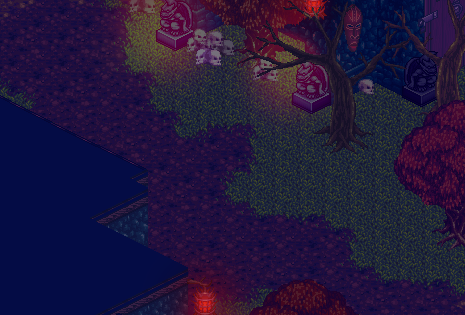 We also had a Haunted House using the same engine. Players would encounter Monsters that blocked their progress. They would have to solve riddles or puzzles to continue.
---
Reindeer Games
Merry Mobile (2009)
Web Based MMO
Art Director, Artist
Cellufun
Reindeer Games

Users could train their reindeer in this storybook like representation. They could use their raindeer to do various other things in the event.
---
Elf Chucking
Merry Mobile (2011)
Web Based MMO
Art Director, Artist
Cellufun
Elf Launch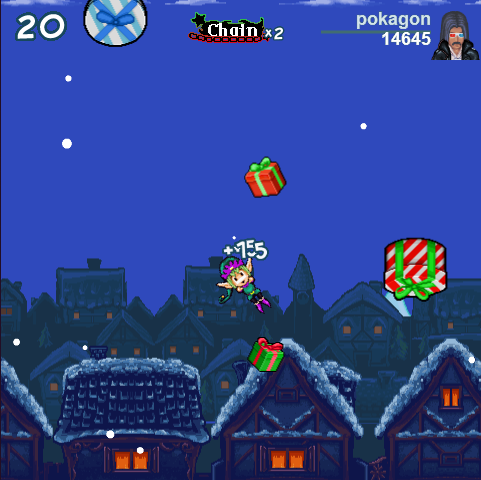 Launch the elf into the sky to grab gifts and earn points.
---
Chronicles of Maer
Chronicles of Maer(2013)
PC, Mac, Linux
Artist
Team Ensō

Screenshot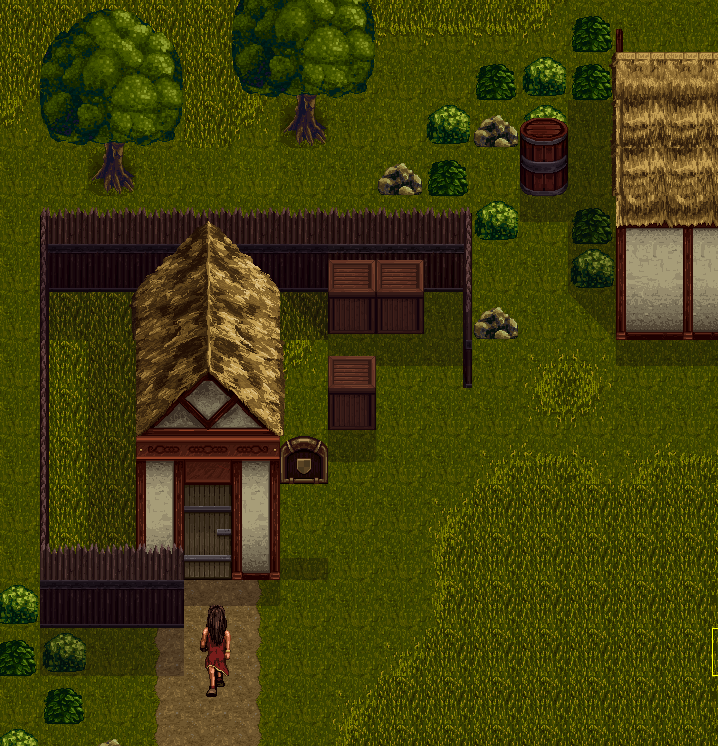 I've done character sprites and tilesets for a cool new RPG from Team Ensō. This game is being developed using an in house engine and tools.
---
Boss fight!
Underworld (2013)
Free to play Dungeon Crawler
Artist
Reveloot
Boss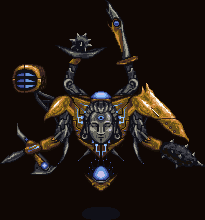 This monster is the boss of a section in the game. It can change it's expression based on it's health.
---
Cybattle
Cybattle
PC, Mac
Creator, Designer, Artist
Mad Science Games
Mock up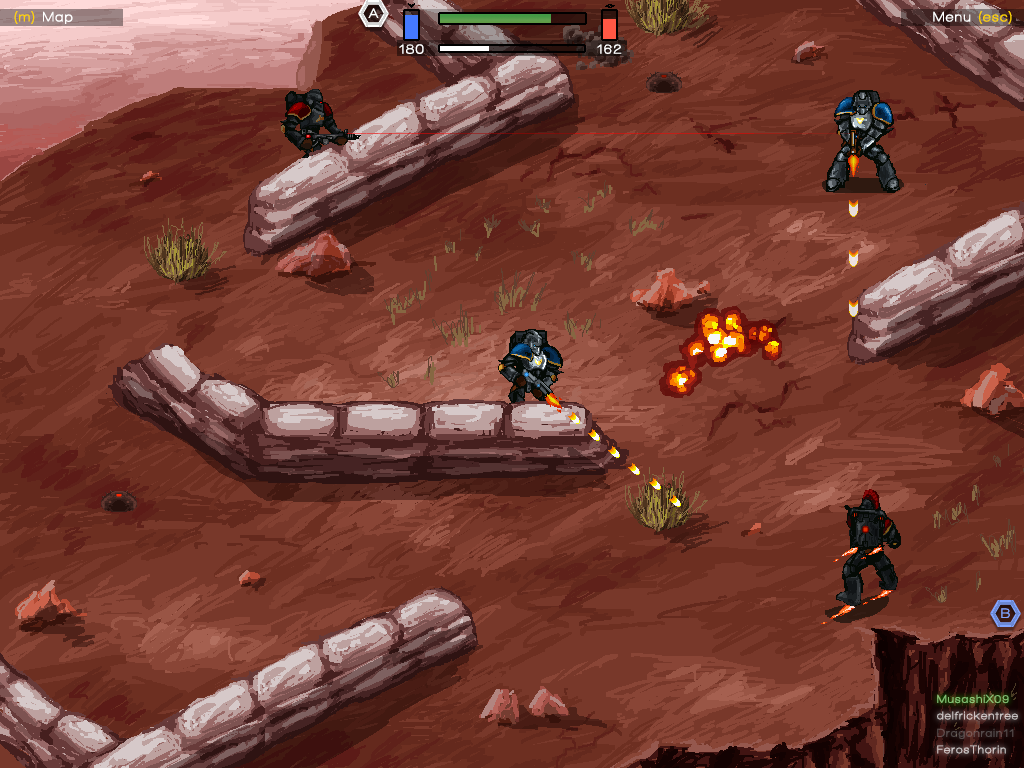 Cybattle is a mixture of Battlefield and old school 2d shoot 'em ups. The game will be available free-to-play in the near future.
You can read some interesting information about the character sprites over at the Mad Science Dev Forum.
Bonus Sprites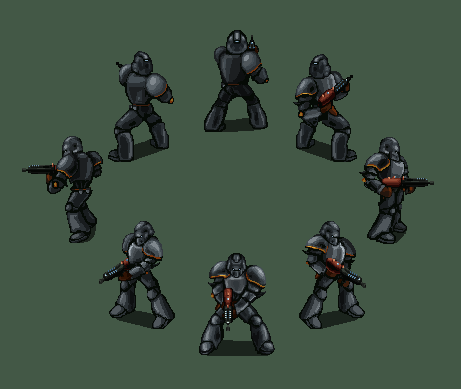 ---
Warrior Girl
Sprite Art (2013)
Artist

Warrior Girl

This is just a sprite done for fun.
---
Welcome to my website!
On this website you will find images, video and documents from some of the projects I have worked on.
The In Game Art + Screenshots section shows either real screenshots, mockups or individual game graphics.
The Concept Art + Paintings section showcases digital and traditional paintings.
The Animations + Spritesheets section includes several examples of 2d animation and a few tv commercials of products I have worked on.
The Produced + Designed section includes some examples of game design as well as videos for games that I have produced and/or designed.
The Resume + Skills section has a downloadable resume and information on freelance services.
The Contact + About Me section has information about contacting me, as well as some fun facts.
If you would like to check out my start-up game studio Mad Science Games please check our website.
Click the red X or outside of this window to begin.
-Chris
---